All the Newsletter We Can Handle
Interviews, Commentary, Culture & Current Events
with co-hosts Wendy Sheridan and Robin Renée
______
The Leftscape 100th Episode Celebration!
We can hardly believe it, but Episode #100 will drop on Wednesday, April 21st. It's time to celebrate! Please join us for a special livestream event on Friday, April 23rd featuring some of your favorite show guests, a few of our patrons, and YOU. Guests will include social activist Cedric Maurice who has a new podcast called Black Fluidity: Bi Black Men Talk, JD Stillwater who will introduce his forthcoming book, Implications: The Interfaith Promise of Science, and John Tod with the latest on his deepening discussion group based in Fort Wayne, IN. The roster is growing and there is sure to be spontaneous conversation and merriment in store.
But the event would not be complete without our very first ASK US ANYTHING! Got a question for us, be it serious, silly, or just something your inquiring mind wants to know? Send it here and we'll add it to the mix. Don't forget to check out the show on Wednesday, then watch, share, and comment on Facebook Live this Friday night. See you then!
— Wendy and Robin 
Leftscape Latest
Down the Rabbit Hole (Episode 98)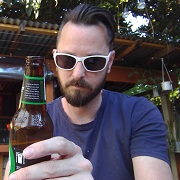 Matt Bird is a musician and DJ in Melbourne, Australia. He grew up in a small country town in Central Victoria, then learned saxophone improvisation and played in a Commitments cover band as a teen. He is now a partner at a business management firm specializing in royalty accounting, licensing, and data analysis, he runs his own small internet station, Radio P.V.S., and presents a Yacht Rock show on North West FM. In this featured interview he talks about his projects and passion for music. He and co-host Robin Renée share thoughts and info about politics in their respective countries, the impact of the former U.S. president, and what it takes to be a better world citizen. LISTEN=>
NJ Assembly Candidate Elizabeth Graner (Episode 99)
 Elizabeth Graner is an educator, a mom, and a Democratic candidate for New Jersey's 21st Legislative District. She grew up just outside Pittsburgh as the oldest child of five siblings in a first-generation Irish American home. She moved to New Jersey after college and worked in New York City in corporate human resources and immigration law before realizing her true calling as a teacher. Elizabeth wants to further that calling to advocate for her students and their families in state government. Wendy Sheridan talks with the candidate about how she found her way to politics, what it's like to be in the race, and her desire to level the economic and opportunity playing field for all NJ citizens. LISTEN=>
___
For Patreons Only
You should have received an email this week about plans for the100th Episode Celebration. If you'd like to join us on Facebook Live, let us know by Wednesday, April 21st and we'll send you the login info for your front row seats!
In other news, check out the Matt Bird excerpt and expect an extra We Should Be Recording This by the end of the month.
Please follow and like us: