Podcast: Play in new window | Download (Duration: 1:33:10 — 170.6MB)
Subscribe: Google Podcasts | Spotify | iHeartRadio | RSS | More
A Chat About Great Sounds and Politics With Musician Matt Bird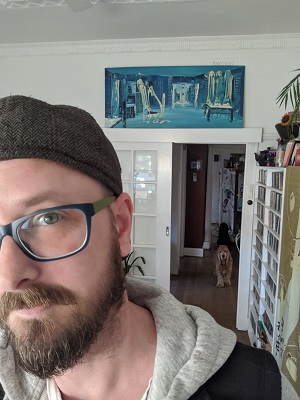 Matt Bird is a musician and DJ in Melbourne, Australia. He grew up in a small country town in Central Victoria, then learned saxophone improvisation and played in a Commitments cover band as a teen. After several years of travelling and living in England, he returned to Melbourne to a record company job, a graveyard shift on a local radio station, and gigging with various bands around town. He is now a partner at a business management firm specializing in royalty accounting, licensing, and data analysis, he runs his own small internet station, Radio P.V.S., and presents a Yacht Rock show on North West FM. In this featured interview he talks about his projects and passion for music. He and co-host Robin Renée share thoughts and info about politics in their respective countries, the impact of the former U.S. president, and what it takes to be a better world citizen.
Robin and Wendy and kick off the show with a check-in followed by 3 Random Facts, this time featuring anaconda sex, the meteorological calendar, and a leaf sheep update. All the News We Can Handle for this episode is all over the map literally and figuratively. Miami Beach spring break is spinning out of control (way beyond the usual), the family of Aretha Franklin calls for a boycott of a forthcoming biopic, Tirath Singh Rawat, the newly-appointed Chief Minister of Uttarakhand blames "ripped jeans" for problems among Indian youth, and plans are underway for the world's first 3-D printed school in Madagascar. The tragic spa shootings in Atlanta, GA bring to light the ongoing problem hate crimes and harassment against Asian people, as well as women and sex workers, in the United States. After the interview, Wendy takes us to The Geekscape for a non-spoiler-free journey in to the Star Trek Discovery universe.
Things to do:
Follow Matt Bird on Mixcloud. Listen to his online station, Radio P.V.S.
Check out the Yacht Rock webshow and Beyond Yacht Rock podcast.
Watch Star Trek Discovery.
Support The Leftscape on Patreon.
Watch and listen to Matt Bird present RADIO P.V.S. – Record Club – E001 – Totally Wired Vol. 14.
Sound engineering by Wendy Sheridan
Show notes by Robin Renée
Fake sponsor messages by Thomas Limoncelli
Web hosting by InMotion
Remote recording by SquadCast
Please follow and like us: