Podcast: Play in new window | Download (Duration: 59:28 — 108.9MB)
Subscribe: Google Podcasts | Spotify | iHeartRadio | RSS | More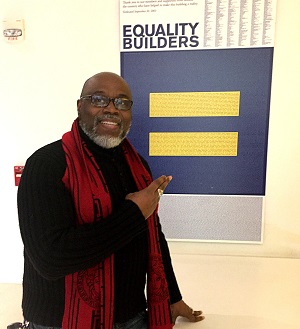 The Leftscape honors Bisexual Awareness Week and Bi Visibility Month with a conversation with social activist, writer, artist, and secular minister Cedric Maurice. Inspired by the work of queer theologian and black bisexual scholar Dr. Elias Farajaje-Jones and the collective work of bi activists such as bi pride flag creator Michael Page in the 1990s, Cedric Maurice has been a longtime outspoken member of the bi community. In this interview, he speaks to his experiences with seeking and creating space for bi people of color, the challenges of dismantling stigma, the potential for social isolation of those who identify as both black and bisexual, and sharing love and desire beyond gender. Listen in to hear about his preliminary plans for an exciting road trip video project, his deep resonance with the "bi" label, and some powerful wisdom for all.
At the top of the show, co-hosts Wendy Sheridan, Robin Renée, and Mary McGinley celebrate or otherwise note "holidays" including Active Aging Week, Chimney Safety Week, Women's Health and Fitness Day, the anniversary of the Nixon-Kennedy debate in 1960, and National Dumpling Day. Wendy renames one event "National Paranoia Day" and later coins the homonym, "allegator." Birthday shouts go out to Serena Williams, Winnie Mandela, Linda Hamilton, and others.
On a more serious note, the controversy over Brett Kavanaugh's Supreme Court nomination and Dr. Christine Blasey Ford's account of his alleged assault are at the forefront of the news. Wendy reads an excerpt from Abagail Adams' letter to her husband John that still speaks loud and clear for the voices and respect of women. Everyone shares their preliminary thoughts on Fear by Bob Woodward and The Obama Inheritance: Fifteen Stories of Conspiracy Noir is offered up as a palate cleanser for all the real-life crazy.
Things to do:
Read Recognize: The Voices of Bisexual Men (Includes an essay by Cedric Maurice)
Read "Chiron's Secret: Our Healing," Cedric Maurice's fantastic essay on Moonlight (2017 Oscar Movie of the Year)
Find Bi Visibility Month Events Around the World
Explore No Homo | No Hetero: Fostering Unity and Eliminating Biphobia in Black Communities Through Art
Please follow and like us: