All the Newsletter We Can Handle
Interviews, Commentary, Culture & Current Events
with co-hosts Wendy Sheridan, Robin Renée, and Mary McGinley
Peace is patriotic. So is protest. So are conversations "across the aisle," constructive critique of political systems and actions, and.evolving perspectives. With Independence Day just past us, we are still considering all the ways to care for and about the USA beyond uncritical flag-waving and fireworks (There were SO MANY FIREWORKS near us this year). We talked about this back in "A Leftscape 4th of July (Episode 6). In turbulent times, the discussion is bound to return. This year we also made a point of marking Juneteenth, a truer celebration of something like liberty for many Black Americans.
When the behavior, speech, and alleged crimes at the top of our government blast through the inevitable veil of desensitization and continue to shock us, how do we call up pride and love of country? Should we? Sometimes the shock inspires more activism and sometimes it sends us running for The Blanket Fort. Both are genuine. Both are fair. They are not mutually exclusive.
How did you celebrate, avoid festivities, or find a creative combo? What conversations has it inspired for you? What themes would you like to hear us explore? Let us know!
— Wendy, Robin, & Mary
Leftscape Latest
When the World is On Fire (Episode 82)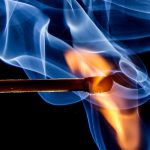 It is not a time for business as usual. This episode of The Leftscape has no featured guest, light-hearted second segment, or messages from mock sponsors. After only a few Random Facts regarding Superman's flight, the founding of the Bethel African Methodist Episcopal Church, and the Possum Drop, the conversation turns to the seriousness at hand. The world is on fire in protest against the murder of George Floyd on May 25th, 2020. And there is a pandemic. And there is an anti-racist tide that can make one dare to be hopeful. Robin Renée, Wendy Sheridan, and Mary McGinley talk heart-to-heart about how they're feeling, what they've seen, and which actions they've taken since Floyd's death. LISTEN =>
Love is All We Have (Episode 83)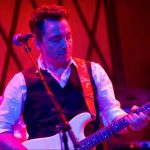 Drew Yowell is a producer, songwriter and artist who has worked with legends like Phoebe Snow, David Lasley, Desmond Child, David Benoit, Dae Bennett, and Herb Alpert. He has played guitar for Sophie B. Hawkins and Kristin Hoffmann, among many others. He was recently nominated for his original composition on an MTV prosocial promo campaign. In addition to composing for MTV, he composes and produces music for VH1, LOGO, and Centric. In this conversation with Robin Renée, Drew offers some much-needed inspiration. He shares his thoughts about working from home as a musician and storytelling through song, his friendship and writing experiences with Phoebe Snow, stepping into and ducking out of politics, coming back stronger after a serious brain injury, a recent instrumental piece called "Ascending," and the making of his forthcoming album, featuring "Love Is All We Have." LISTEN=>
Coming right up: Don't miss Robin's conversation with Dillon Carmichael. Though he calls himself "just a 24-year-old trying to find his way," he has founded a powerful project, "Redefining Black Masculinity." Listen in to hear how he is documenting black masculine identities in all of their many expressions. Later in the show, we'll traverse The Geekscape to talk about She-Ra and the Princesses of Power, Season 5.
______
The Personals
Wendy the Human Thundershirt!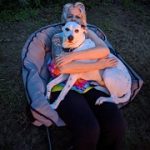 Wendy Sheridan has been sticking close to home. The state of the world and the actions and attitudes of "the current occupant of The White House" continue to be overwhelming, but there is joy to be had in her garden. There are a few zucchini every day, plentiful blackberries, sunflowers, tomatoes and corn on the way, about 20 maturing apples, and more. Here she is acting as a "human thundershirt" for her daughter's sweet canine companion, Lily, who needed comforting during the 4th of July fireworks.
Robin is Musicianing at Home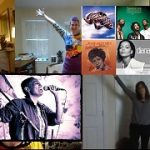 Robin Renée has been on a slow roll toward acclimating to live online performances and other alternative ways of getting music out into the world. The Pride Live event in June was a variety show featuring musicians, comics, and drag performers in support of The Pride Center of New Jersey. Recently, Janie Ganga began featuring Black artists' music in her online yoga classes and has included Robin's kirtan chants. Robin had fun participating in her recent Yoga Dance class that had a few songs from Live Devotion and This. on the playlist. Watch this space as ideas come together for yoga with live music or other collaborations and virtual events.
______
For Patreons Only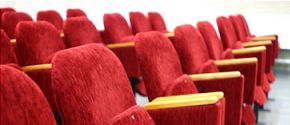 Joining us on Patreon is easier than you may think! For only one dollar per month, Front Row Seat supporters receive access to our extended segments and early bird access to upcoming events and new swag. Patrons help us improve our recording equipment, website, and beyond. Help us raise the profile of progressive conversation. Join us on Patreon and ask a friend to do the same.
Thank you for being a part of our community.
Please follow and like us: