Podcast: Play in new window | Download (Duration: 1:12:49 — 133.3MB)
Subscribe: Google Podcasts | Spotify | iHeartRadio | RSS | More
Talking With Songwriter, Composer, and Producer Drew Yowell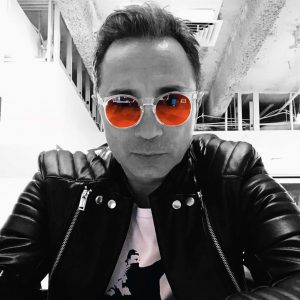 Drew Yowell is a producer, songwriter and artist who has worked with legends like Phoebe Snow, David Lasley, Desmond Child, David Benoit, Dae Bennett, and Herb Alpert. He has played guitar for Sophie B. Hawkins and Kristin Hoffmann, among many others. He was recently nominated for his original composition on an MTV prosocial promo campaign. In addition to composing for MTV, he composes and produces music for VH1, LOGO, and Centric. In this conversation with Robin Renée, Drew offers some much-needed inspiration. He shares stories about working from home as a musician and storytelling through song, his friendship and writing experiences with Phoebe Snow, stepping into and ducking out of politics, coming back stronger after a serious brain injury, a recent instrumental piece called "Ascending," and the making of his forthcoming album, featuring "Love Is All We Have."
After sharing 3 Random Facts at the beginning of the show about Isabella Furnace, a law made in 2009 in Canada about saying "sorry," and the premiere of the Yacht Rock web series in 2005, Wendy Sheridan, Mary McGinley, and Robin Renée dig into the news. Topics include Juneteenth, the mystery and theories around frequent fireworks, and the tragic killing of Rayshard Brooks which prompts a personal story that puts a fine point on racial bias in policing. SCOTUS rulings provide some recent good news: no discrimination against LGBTQ+ people in the workplace and the ending of DACA has been blocked. Also, the Trump campaign was issued a cease and desist letter by the estate of Tom Petty for the use of "I Won't Back Down" at his very underattended rally in Tulsa, OK. After the featured interview, Robin goes off in the Why Is This Awesome? segment about the wonders of yacht rock.
Things to Do:
Get music by Drew Yowell.
Read Robin Renée's interview with Phoebe Snow.
Like The Leftscape on Facebook, view Parade of Prides Past photos, and join the conversation.
Watch and share "Ascending" by Drew Yowell:
This is a new song I just wrote titled "Ascending"I wrote this for me, I wrote it for you, for all the people who lost someone or gained someone back…for the people on the frontlines helping so courageously to fight this battle… and for the echoes of the empty streets around the world. Hope it brings some comfort. This was a first attempt at playing it live after recording the strings.Thanks for listening 🙏🏼❤️

Posted by Drew Yowell on Thursday, April 16, 2020
Watch "Love Is All We Have" by Drew Yowell and share the love!
Get into Yacht Rock and Hartford Yacht Goats.
Listen to Certified Yacht Rock:
Sound engineering by Wendy Sheridan
Show notes by Robin Renée
Fake sponsor messages by Thomas Limoncelli
Web hosting by InMotion
Remote recording by SquadCast
Please follow and like us: