All the Newsletter We Can Handle
Interviews, Commentary, Culture & Current Events
with co-hosts Wendy Sheridan and Robin Renée
______
Achievement Unlocked! 2021 Season 2 Planning
Hello and welcome! We have a lot planned for you for the rest of 2021 Season 2: ACCEPTANCE. Yes, we are happy to bring you in-depth featured conversations on coming out transgender, confronting and expanding spiritual philosophies, a frank and personal look at issues of race across America, and some exciting surprises. But the big news is that… we PLANNED! 😀
The first couple of years of this Leftscape project was a bit of a jumble of decisions and guest bookings on the fly. It feels like a kind of leveling-up to have gotten to the place where we have envisioned an entire ten-show season, have pre-recorded many of our interviews, and can now take the organizational time to create the best show we can for you, our listeners. We admit, not all of our proverbial ducks are in a row. Keeping up with social media is still a challenge. We're working on growing our Patreon so we can hire an intern to help us keep up our positive momentum. It feels good to celebrate how the show has grown and to have a sense of what's next.
Thank YOU for your input and support and for rolling with the changes. We couldn't do it without you. <3
Love,
— Wendy and Robin 
Leftscape Latest
Daniel Kaye: Making Life Better (Episode 105)
Daniel Kaye has been a writer and artist for over 25 years, working as a journalist, editor, columnist, editorial cartoonist, and book illustrator. He is the creator of the comic strip, MILO K., hermit crab. His most recent book, with text by Rabbi Howard Bogot, is Never Tell a Hermit Crab We Can't Repair the World. Daniel is also the Director of Life Enrichment and Community Engagement at a Life Plan Community in the Philadelphia area. He shares openly about dealing with anxiety and depression and the many ways he works toward making life better for himself and others. LISTEN=>
Meet '89 the Brainchild (Episode 106)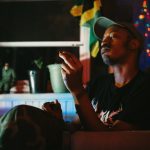 '89 the Brainchild is a rap performer and entertainer from New Jersey. He flew under the radar for years and began finding buzz through performing in the NJ/NYC area just before the pandemic shutdown. Also a stage production manager, '89's recordings include "Father's Day," Not Who I Thought I Was (the last of my rage), and Patterns, which has been described as a mix of hip hop, house, techno, and nu-disco reminiscent of Jungle Brothers, Heavy D, and Big Daddy Kane. He speaks with Wendy about the dreams and experiences that led to his music, hip hop technology, ageism in the music industry, and self-acceptance around fantasy vs. reality of life as a creative artist. LISTEN=>
Next up, we'll head to The Blanket Fort to take a look at how we process our negative emotions and we'll feature a conversation with Serell Brown, founder of Nubian Nudist, on body acceptance. In episode 108, BethAnne Yeager will teach us about ecopsychology and Wendy will share her excitement about gardening and preserving in Why Is This Awesome.
___
The Personals
Wendy is Doing #Shirtember
Wendy is working on art for a couple of in-person events in the fall and is planning to participate in #shirtember, which is a challenge to design a t-shirt every day for September. Whether this impacts Inktober is anyone's guess. Here's a drawing she did that might become available as a t-shirt next month.
Robin is Picking Up Gigs
Robin has been more focused on writing, health, and personal growth since partial re-emergence from pandemic hibernation. But ready or not… Gig inquiries are coming in, so if you're interested in a concert, kirtan, spoken word performance, or other appearance, get in touch at info@robinrenee.com. Let's see what we can put together!
___
Patreon Place
Our August We Should Be Recording This bonus post is all about feminism — our early influences, how it informs us today, and the "waves" where we find the most resonance.
In other Patreon news, Robin is planning to sheepishly ask friends to become patrons of The Leftscape as a gift on hir birthday (August 27th). Do us a solid and pass this along to anyone you know who may want to join the party! The Leftscape on Patreon
Please follow and like us: