Podcast: Play in new window | Download (Duration: 1:28:15 — 161.6MB)
Subscribe: Google Podcasts | Spotify | iHeartRadio | RSS | More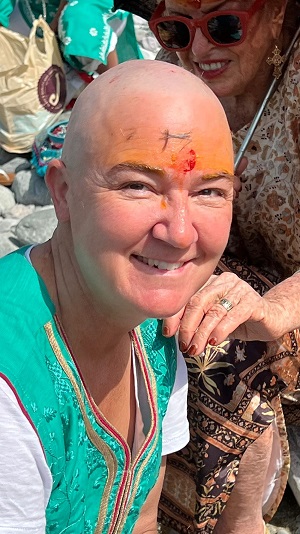 Susan Billmaier's professional background is in Religion, Ethics, and Philosophy applied to higher education and non-profit management. This coincides with a lifetime of self-education in healing arts, religious ritual, and psychological study of the "big questions" like "Who am I?" and "Why am I here?" Her website, WithPearls.com, focuses on shifting humanity from a consciousness of separation to a consciousness of Oneness. In this interview, Susan speaks about living and working with deep intention around spirituality and the betterment of community, discerning true seeking from spiritual bypass and cultural appropriation, the practices she has come to rely on to uncover "natural divinity," and the essence of moksha, or freedom from ego.
In the Ikigai segment, co-hosts Robin Renée and Wendy Sheridan continue the exploration of the Japanese concept and way of being through a discussion on the second pillar of Ikigai, releasing yourself. They start off the show with a check-in followed by 3 Random Facts about fish and gender, flamingoes, and the late Olympic swimmer, Greg Buckingham. The News was recorded before the leak revealing the US Supreme Court's document signaling the end of Roe v. Wade. So topics include black bears in New Jersey, shifting reports and perpetual misinformation about COVID-19, a second Amazon facility voting on unionizing in Staten Island, hunger and mass displacement in the Horn of Africa, and the January 6 Committee's examination of text messages by Congress members and others in regard to the insurrection at the Capitol. In You Got Questions? We Got Answers!, Wendy and Robin chat about amusement park favorites. 
Things to do:
Explore Susan Billmaier's website, WithPearls.com.
Read books by Ken Mogi on ikigai and more.
Review and share myths vs. facts about the COVID-19 vaccine from hopkinsmedicine.org.
You Got Questions? Send 'em!
May is Masturbation Month, so… enjoy yourself!
Sound engineering by Wendy Sheridan
Show notes by Robin Renée
Fake sponsor messages by Ariel Sheridan
Web hosting by InMotion
Remote recording by SquadCast
Please follow and like us: