Podcast: Play in new window | Download (Duration: 1:04:15 — 117.7MB)
Subscribe: Google Podcasts | Spotify | iHeartRadio | RSS | More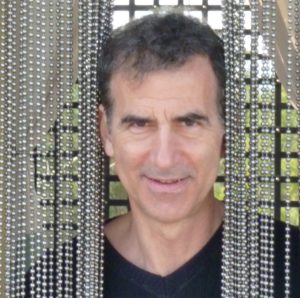 While The Leftscape co-hosts finish up their January break, check out these segments from "Neon Blessings, Beautiful Wounds (Episode 78)." Playwright Rich Orloff is the author of 18 full-length plays (most comedies, mostly award-winning) and over 80 short plays, which have received 2,000 productions on six continents – and a staged reading on Antarctica. His exploration of psychedelic-assisted underground therapy in recent years led to deepening perception and unexpected spirituality as well as to his autobiographical monologue, It's A Beautiful Wound. In this conversation with co-host Robin Renée, Orloff reads an excerpt and describes the ways guided experiences with psychedelics have helped him with moving through and beyond trauma. This episode first posted on April 15, 2020. As a New York City resident, Rich also shares a great deal about life at the epicenter of the coronavirus pandemic.
The Three Random Facts that usually start the episodes aren't often included in redux shows, but facts about the strange dietary choices by Wendy Sheridan's cat, the truth about the COVID-related toilet paper shortage, and radical Grandpa Walton seemed worth revisiting. After the interview, Wendy reads from the profound essay, "Prepare for the Ultimate Gaslighting*," in the Why Is This Awesome? segment.
Things to do:
Learn more about Rich Orloff and It's a Beautiful Wound.

Attend an online fundraiser performance of Rich Orloff's newest theater piece, Blessings From the Pandemic. 100% of the income from performance will benefit Romemu, an eclectic Jewish community dedicated to opening body, heart, mind and spirit. The performance will be streamed on Saturday, February 13 at 7 pm EST* and will be followed by a dance party! Learn more and make your reservation.
*The performance starts at 7 p.m, preceded by a 6:30 p.m. Havdalah service of prayer and song. All are welcome.
Read Rich Orloff's comedy, The Whole Shebang.
Read "Prepare for the Ultimate Gaslighting*" and other essays by Julio Vincent Gambuto.
Become a patron of The Leftscape and listen to "Insurrection to Inauguration," Wendy, Robin, and Mary's conversation about the emotional roller-coaster that January 2021 has been and how they've been coping.
Stay connected!
Website: leftscape.com
Email: insight@leftscape.com
Facebook: facebook.com/leftscape
Twitter: @leftscape
Instagram: @leftscape
Get the newsletter, The Leftscape Lookout
Please follow and like us: