Podcast: Play in new window | Download (Duration: 1:27:04 — 159.4MB)
Subscribe: Google Podcasts | Spotify | iHeartRadio | RSS | More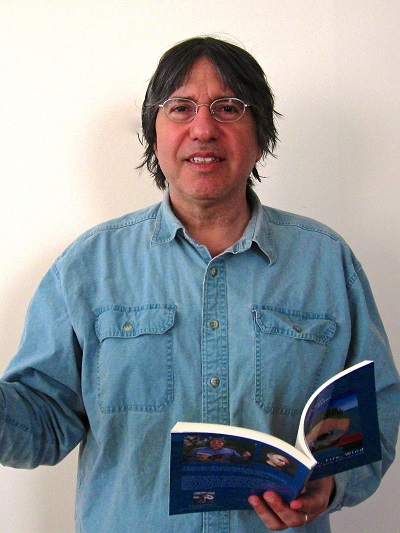 Eliot Katz is the author of seven books of poetry including Unlocking the Exits and Love, War, Fire, Wind. His most recent books include a readable, scholarly volume, entitled The Poetry and Politics of Allen Ginsberg, and the free, downloadable President Predator — poems to help make america trump-free again. Called "another classic New Jersey bard" by the late, great poet, Allen Ginsberg, Katz has been a longtime activist for a wide range of peace and social justice causes, including many years spent as an advocate for Central Jersey homeless individuals and families. In this interview, Katz discusses Franklin Roosevelt's Four Freedoms and how we might think about and work for freedom today, his own activism, and he shares some moving and inspiring poems. (CW: As the son of a Holocaust survivor, he reads a particularly intense poem based on his mother's recollections at about 1:15:40).
Before the interview, co-hosts Wendy Sheridan and Robin Renée head into The Blanket Fort for a self-care check-in and to contemplate the question, "What Freedoms Do We Allow Ourselves (or Not)?" In News: January 6 Commission subpoenas, New Jersey passes the Reproductive Freedom Act, COVID tests covered by insurance, Neil Young's stance against Joe Rogan's misinformation on Spotify, LAPD cops who chose Pokémon over police duty, and an article sent in by a listener on the language of "officer-involved incidents." This episode's 3 Random Facts give the 411 on dolphin anatomy, an unlikely human physical feat, and some Titanic trivia. In You Got Questions? We Got Answers!, Robin and Wendy respond to "If there were no dietary consequences, what one food would you eat for the rest of your life?"
Things to do:
Visit Eliot Katz' website, eliotkatzpoetry.com.
Download his 2020 anti-Trump volume, President Predator. Free PDF
Get your free COVID-19 tests and get reimbursed for at-home tests by your health insurance.
Learn about housing programs Amandla Crossing and Imani Park.
Learn about Elijah's Promise community kitchen.
Keep up with legislation in real time with LegiScan.
Watch "Meat Loaf –Two Out of Three Ain't Bad"
Sound engineering by Wendy Sheridan
Show notes by Robin Renée
Fake sponsor messages by Ariel Sheridan
Web hosting by InMotion
Remote recording by SquadCast
Please follow and like us: