Podcast: Play in new window | Download (Duration: 1:23:59 — 153.8MB)
Subscribe: Google Podcasts | Spotify | iHeartRadio | RSS | More
A Conversation with Nicole Kristal and Ashlei Shyne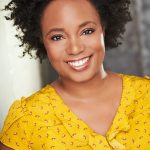 Ashlei Shyne is an actress, improviser, writer, filmmaker, and activist.  After recognizing the lack of LGBTQ+ representation within the comedy community, she created Rainbow Bright Comedy, an LGBTQ+ improv troupe, in order to give queer people of color a platform.  As an Out & Proud Black Bisexual woman, Ashlei uses her unique voice and perspective to fight racism, bi erasure, and biphobia in all communities.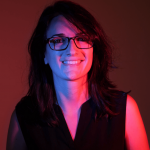 Activist and author Nicole Kristal created Still Bisexual in 2015 after growing frustrated with the lack of social acceptance for bisexuals despite wider gains for gays and lesbians. She thought if we could make folks realize the bisexual identity for most was lifelong and that bisexuals in committed monogamous relationships hadn't "picked a side," but instead were still bisexual, we could finally start to debunk some of the stereotypes. She is the co-author of The Bisexual's Guide to the Universe.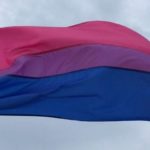 Our featured conversation begins with a recent debacle over the rights to use the bisexual pride flag (Spoiler Alert: Anyone can use the bi pride flag!). It deepens into challenges our activist communities face around racism, inclusivity, cultural and generational differences, cancel culture, glory-seeking, and more. The aftermath of the flag controversy reveals a potential for community growth, lessons for leadership, continued conversations, and a stronger overall network.
At the top of the show, Wendy Sheridan, Mary McGinley, and Robin Renée share 3 Random Facts — this time involving springtime snow in New York City, the day's celebrity birthdays (Stephen Colbert, Stevie Wonder, and Darius Rucker), and Goxua, a dessert from Basque Country. All the News We Can Handle covers county, state, and national parks beginning to reopen, voting by mail, an informative article on COVID-19 infection by Erin Bromage, PhD Biology, UMass Dartmouth, and the recent arrests made in the tragic shooting of Ahmaud Arbery.
Things to Do:
Explore the Still Bisexual project.
Take part in the #Out4MentalHealth project by the California LGBTQ Health and Human Services Network.
Read "The Risks – Know Them – Avoid Them" by Erin Bromage on the COVID-19 pandemic.
Read "Keep Calm and Carry On: How to Vote By Mail During the Coronavirus Outbreak" by the ACLU. Get the details you need for applying and voting by mail in your state.
Learn more about Ashlei Shyne on IMDb, Instagram, and Facebook.
Read The Bisexual's Guide to the Universe by Nicole Kristal and Mike Szymanski.
Buy bi pride stuff from BisexualShirts.com, the Bisexual Resource Center, or wherever bi pride stuff is sold. And get creative and make your own!
Watch the video that launched the #StillBisexual project:
Sound engineering by Wendy Sheridan
Show notes by Robin Renée
Fake sponsor messages by Thomas Limoncelli
Please follow and like us: