All the Newsletter We Can Handle
Interviews, Commentary, Culture & Current Events
with co-hosts Wendy Sheridan, Robin Renée, and Mary McGinley
Hello and welcome. We hope you and yours are doing well. As we continue staying home as much as possible, checking in on neighbors, and keeping in touch online, we've been giving some thought to discovering ways people can help or find assistance during this coronavirus pandemic. Here are a few of the things we've discovered.
Act Up – Fight COVID-19: An online Act Up group to unite and empower grassroots HIV and health activists and allies, including front-line researchers, to fight the COVID-19 pandemic by sharing information and ideas for strategic, informed, ethical, and compassionate community responses and solutions. All former Act Up members and health allies and activists especially invited.
Support for Communities of Color: Consider exploring and contributing to organizations that focus on communities that are among the hardest hit because of compounded risks.
Hub City Homecoming: Donate to Elijah's Promise Soup Kitchen during the month long online music festival (See below in The Personals.)
Make Masks for Inmates: Jails in Southern New Jersey are low on masks. Contact the Camden County Pop Up Library if you are in the area and would like to make some. Materials, directions, pick up, and drop off provided.
Reach Out in Your Corner: Affinity groups, artists, fandoms, and others are finding each other online. Science Fiction & Fantasy Writers of America has an emergency medical fund. You can use hashtag #BiHelpNow on Twitter to find those in the bisexual community who need help or to ask for something you need. Do a search according to your interest or identity and you may uncover vital connections.
Do take care of yourself. We hope our podcasts serve to inspire thought, healing, and inspiration. Let us know what kind of content will help YOU through these times. Read on below for recent shows and what's coming soon.
— Wendy, Robin, & Mary
Leftscape Latest
Neon Blessings, Beautiful Wounds (Episode 78)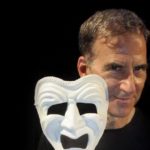 Playwright Rich Orloff is the author of 18 full-length plays (most comedies, mostly award-winning) and over 80 short plays, which have received 2,000 productions on six continents – and a staged reading on Antarctica. His lifelong journey of inquiry, growth, and humor is reflected in his work, but an exploration of psychedelic-assisted underground therapy in recent years led to a deepening of perception and unexpected spirituality as well as to his autobiographical monologue, It's A Beautiful Wound. In this conversation with Robin Renée, Orloff reads an excerpt and describes the ways guided experiences with psychedelics have helped him with moving through and beyond trauma. As a New York City resident, he also shares about life at the epicenter of the coronavirus pandemic. LISTEN =>
The End of Certainty (Episode 79)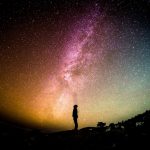 JD Stillwater is a science educator, writer, and musician. He is a Cornell University graduate and a full-time staff member at The Circle School in Harrisburg, PA. His inspiring presentation, Seven Candles, brings to the global conversation an entrance into making difficult science concepts graspable for non-scientists, and then takes listeners into the deeper mysteries those concepts engender. In this conversation, JD illuminates the main points of reference for Seven Candles, shares some moving, topical poems, and speaks to the potential that lies in exploring science to inspire a shift from dogma to embracing our profound interconnectedness and a more balanced, both/and worldview. LISTEN=>
We've got some great conversations coming up! We'll share an interview with activist and author Nicole Kristal and actress/filmmaker Ashlei Shyne, both with Still Bisexual, on the recent bi pride flag controversy and facing challenges in our broader activist communities. Then multi-disciplined student and presenter Dwayne Smith will tell us about his current book-in-progress on conflict resolution and communication in relationships inspired by polyamory.
______
Check out what else we're up to!
Robin Renée Sings for Hub City Homecoming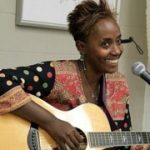 The annual Hub City Music Festival in New Brunswick, NJ wasn't in the cards for this season, but the organizers were not deterred! Hub City Homecoming features a different online performance every evening in May. Catch Robin's set on the Iguana Music Concerts Facebook page on Wednesday, May 13th at 7pm. The series supports hunger relief organizations during a time of unprecedented need. Enjoy the music each night and consider a donation as you are able to Elijah's Promise Community Soup Kitchen via this dedicated link.
Wendy Sheridan Coloring Books COVID-19 Sale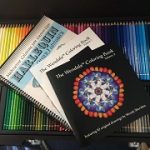 We are all having a tough time staying home during the pandemic. Wendy has put her coloring books up for sale *at cost* because she needs some money coming in and you need to save as much as you can. Win-win! Spend some time during quarantine in meditative, creative self-expression with Harlequin & Other Fantasies and The Wendala Coloring Book Volumes 1 and 2. Visit Wendy's Etsy site for the Coloring Book Bundle while the pricing and stock lasts.
______
For Patreons Only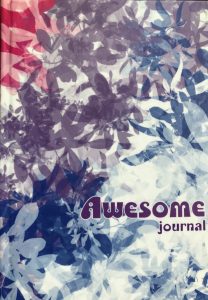 Inspired by our Why Is This Awesome? segment where we let you know all about something one of us is crazy passionate about, we present the Awesome Journal!  You can get yours by supporting us at the After Party level. Please join us on Patreon at whatever level is right for you. Every contribution counts. Our patrons recently made it possible for us upgrade our web hosting, so know that your funds go directly toward helping us make The Leftscape the best it can be.
Many thanks!
Please follow and like us: