Podcast: Play in new window | Download (Duration: 1:13:50 — 135.2MB)
Subscribe: Google Podcasts | Spotify | iHeartRadio | RSS | More
Dwayne Smith on Communication in Relationships and Lessons from Polyamory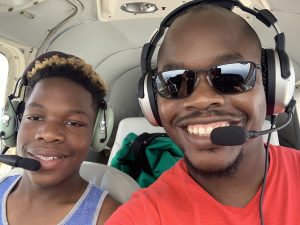 Dwayne Smith, a PhD student in computational social science at George Mason University researches criminal justice policy reform, restorative justice initiatives, and the impacts of public policy on black communities. He works in cyber security. He is a pilot and a fitness competitor. When he's not working on all those things and more, he finds the time to work on a book on communications with Life Coach Lori Carpenter and to tell The Leftscape all about it. Check out what Dwayne has to say about what he's discovered through polyamory in regard to fostering healthy relationships. The L.O.V.E.R.S. steps to resolving conflict are memorable and useful for anyone.
In this episode's edition of 3 Random Facts and the News, co-hosts Robin Renée, Mary McGinley, and Wendy Sheridan highlight a very loud U2 concert held on May 27, 1987, explain the meaning of "octothorpe," and remember a famous horse named Mr. Tiz. After a quick rewind to "Let Your Bi Flag Fly (Episode 80)" for a correction and some thoughts on the last show's conversation, All the News We Can Handle includes Memorial Day crowds in a pandemic, "Costco Kevin," Robin's encounters with safer and not-so-safe retail experiences, and The Leftscape's upcoming celebration of LGBTQ Pride on Facebook. In The Geekscape, Wendy geeks out on some gardening tips and shares what she's planted this season.
Things to do:
Keep up with Dwayne Smith on Facebook and Twitter.
Check out Lori Carpenter at What If… ? Coaching and on Instagram.
Listen to I Hear You: The Surprisingly Simple Skill Behind Extraordinary Relationships by Michael S. Sorensen
Learn About Loving More, the premiere nonprofit serving the polyamory and ethical non-monogamy community since 1985.
Like The Leftscape on Facebook and join us in June for a Parade of Prides Past.
Read the Statement by the Ad Hoc Coalition of Former BiNet USA Leaders, released on May 22, 2020.
Enjoy Wendy's garden photos (Click for full image).
Sound engineering by Wendy Sheridan
Show notes by Robin Renée
Fake sponsor messages by Thomas Limoncelli
Please follow and like us: