Podcast: Play in new window | Download (Duration: 1:15:24 — 138.1MB)
Subscribe: Google Podcasts | Spotify | iHeartRadio | RSS | More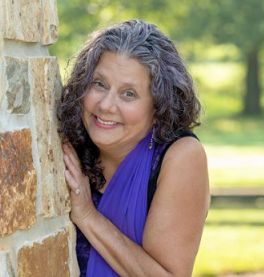 Edie Weinstein is a colorfully creative journalist, licensed social worker, psychotherapist, and the author of The Bliss Mistress Guide To Transforming The Ordinary Into The Extraordinary. She is also a public speaker and the founder of Hugmobsters Armed With Love, which offers free hugs worldwide. She recently experienced a longtime dream come true by offering her first TEDx talk — Overcoming the Taboo of Touch. Edie was first featured on the show way back on Episode 36 in 2019. In this new conversation with co-host Robin Renée, she tells her story about her journey to the TedX stage, the importance of touch, and the many healthy ways we can pursue meeting this vital need.
In the Earthscape segment, co-host Wendy Sheridan heads up a discussion on spring gardening in the Garden State. The two Random Facts of the day pertain to a song honored at the 1972 Academy Awards and the intestinal tract of the pigeon. This time in the News: Donald Trump's indictment and arraignment, Mozilla:ai, a startup building a trustworthy, independent, and open-source AI ecosystem, water treatments in development designed to eliminate "forever chemicals," Representative Michaela Cavanaugh continues to filibuster in the Nebraska senate to defeat anti-trans legislation, endangered baby tortoises with cute names in Houston, and, well… mammoth meat. In You Got Questions? We Got Answers!, a random fact topic flies back around to bookend the show.
Things to do:
Find Edie Weinstein online and follow her on Facebook.
Watch "Overcoming the Taboo of Touch | Rev. Edie Weinstein | TEDxFaurotPark"
Read "The Famous Celibate Physicist Inventor Who Fell Madly In Love With a Pigeon."
Listen to Radio PVS! The North West Coast show currently airs on Fridays, 8pm EDT.
Sound engineering by Wendy Sheridan
Show notes by Robin Renée
Fake sponsor messages by Ariel Sheridan
Web hosting by InMotion
Remote recording by SquadCast
Please follow and like us: