Podcast: Play in new window | Download (Duration: 1:18:08 — 143.1MB)
Subscribe: Google Podcasts | Spotify | iHeartRadio | RSS | More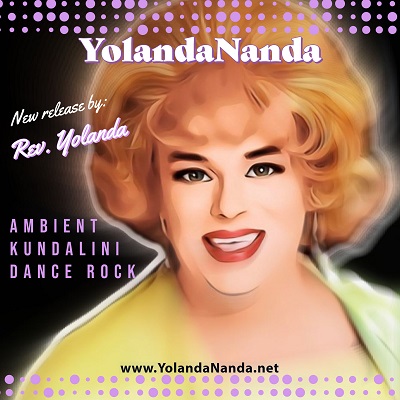 Rev. Yolanda is a singer/songwriter/trans-femme genderqueer performance artist and interfaith minister, originally from Muscle Shoals, Alabama — the hit recording capital of the world. Rev. Yolanda has been honored with induction into the GLBT Hall of Fame, the Blues Hall of Fame, and also with two MAC Awards from the Manhattan Association of Cabarets and Clubs. A brand new recording, YolandaNanda, is based on her love for mantras of the Buddhist, Hindu, and Sikh traditions. She shares her story of journeying from a Christian background to growing to understand her sexuality and gender to life and spirituality through The Radical Faeries and an interfaith seminary to the music ministry she has today. Don't miss her excellent anecdotes and memorable music!
The Episode starts off with 3 Random Facts: Wendy Sheridan teaches us that octopi can change in more ways than most of us may have heard, Mary McGinley tells us about a company's attempt to make broccoli more appealing to kids (epic fail), and Robin Renée speaks of mysterious appearances by a flute-playing André 3000. The News turns to the heart-wrenching loss of Supreme Court Justice Ruth Bader Ginsburg, the new Bob Woodward book, Rage, cannabis legalization on the ballot, and a "UFO" over New Jersey. At the end of the show, Wendy, Mary, and Robin enter The Blanket Fort to process grief, think about creativity during the COVID-19 pandemic, and to offer congrats to recently newlywed friends and family. Reminder: Be kind to yourself.
Things to do:
Get the new album, YolandaNanda!
Attend Church With a Two Drink Minimum.
Learn about Drag Queen Story Hour.
Get ready to VOTE and find out how you can VOLUNTEER at VoteSaveAmerica.com.
Learn about Celebrate Bisexuality Day and follow hashtags #BiVisibilityDay, #BiWeek, #BiVisibilityMonth for events and conversation.
Watch My Octopus Teacher on Netflix.
Check out the Church of the SubGenius. Get ordained, get some sacred SubGenius music downloads, and more. Praise "Bob!"
Sound engineering by Wendy Sheridan
Show notes by Robin Renée
Fake sponsor messages by Thomas Limoncelli
Web hosting by InMotion
Remote recording by SquadCast
Please follow and like us: