Podcast: Play in new window | Download (Duration: 51:27 — 94.2MB)
Subscribe: Google Podcasts | Spotify | RSS | More
Ahoy ye landlubbers! An' has Th' Leftscape ever got a show fer ye! Lend us yer ears as Dread Pirate Wendy, Bloody Mary, an' Robin El Terrible tell ye a tale. . .
September 19th is Talk Like a Pirate Day, and Wendy Sheridan, Mary McGinley, and Robin Renée give it their best shot in introducing this week's show. We hear about their favorite pirates Batt and Galen (featured image), Adam Ant, and Errol Flynn as Captain Blood, plus a jolly, bawdy pirate tune by Moss Stern called "Pirates of the Rim."
Robin speaks with engineer Linda Gaffney about her focus on and pursuit of helping others, particularly in the realm of the environment. From an initial interest in working locally with solar panels, she expanded her scope to assist with solar energy installation in places including Costa Rica, Haiti, and the Pine Ridge Indian Reservation in South Dakota. She has taken part in projects involving The We Care Solar Suitcase, which supports maternal health and deliveries in places without reliable electricity, and the We Share Solar Suitcase, which is a kit for teaching students about solar energy and sharing light. In connection with the Rutgers Environmental Stewards Program, she recently created "Sea How High," a fun-to-play game that teaches about sea level rise due to climate change. Also a yoga teacher, Linda speaks about the benefits of returning to a contemplative practice. Tune in to hear more about the work and insight of Linda Gaffney and check below for ways you can start to learn about the environment if you live in, or plan to visit New Jersey.
In News, the co-hosts consider the value or lack thereof of the New York Times Anonymous Op-Ed and the activities it describes. They each commit to reading Fear by Bob Woodward and will report back for discussion on the show. The battle against Supreme Court nominee Brett Kavanaugh continues, and everyone is reminded to do what they can to help.
This week is also Farm Animals Awareness Week, Rehabilitation Awareness Week, Historically Black Colleges and University Week, and Indoor Plants Week. September 19th birthdays include Jimmy Fallon, Twiggy, Lita Ford, Sunita Williams, Adam West, and Tegan and Sara. Celebrate Bisexuality Day is coming up on Sunday, September 23rd. Queen fans can also mark their calendars for Bohemian Rhapsody the movie, which is set for release soon (in theaters in the US November 2nd).
Things you can do:
Visit The Rutgers Environmental Stewards Program, an excellent program to find out about environmental issues in New Jersey.
Find out if your New Jersey community has a Green Team: Sustainable NJ
Attend the Jacques Cousteau National Estuarine Research Reserve Open House on September 22nd. The JC NERR is a good place to visit to find out about New Jersey's coastal areas.
Try the Online Pirate Translator
Outro Music: "Pirates of the Rim" – Moss Stern
Shiver me timbers! That's all we got fer ye. Listen t' th' show now, subscribe, 'n share it wit' yer mateys!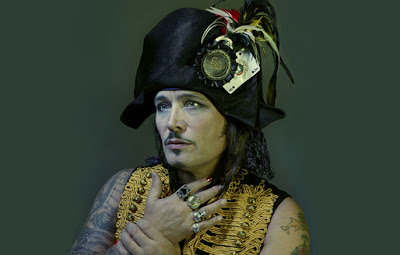 Please follow and like us: