Podcast: Play in new window | Download (Duration: 1:23:21 — 152.6MB)
Subscribe: Google Podcasts | Spotify | iHeartRadio | RSS | More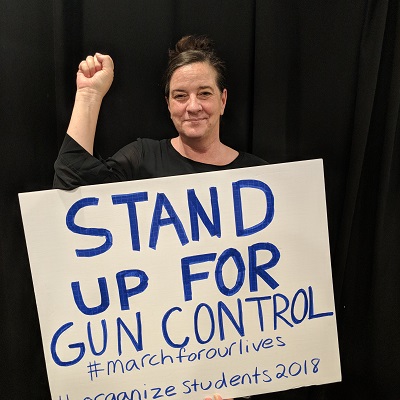 Tolley Casparis has been a progressive activist since the age of 15. Now at 57, she continues to work tirelessly to uphold democracy and civil rights. She lives in Los Angeles and works as a casting director and a death doula. In this inspiring interview, Casparis talks about the deeply important activities and indirect effects of grassroots activism, the issues she champions including the environment, bodily autonomy, and gun control, and why the connections we form and cultivate matter so vitally. 
All the news co-hosts Wendy Sheridan and Robin Renée can handle this time includes the U.S. Senate's passing of the Inflation Reduction Act of 2022, the vote in Kansas to keep abortion rights in the state constitution, the loss of icons Nichelle Nichols and Olivia Newton-John, the discovery of an unexploded WWII bomb on an Italian river bank, the F.B.I. search at Mar-a-Lago, the latest on monkeypox, and new polio concerns.  At the beginning of the show, Wendy and Robin share 3 Random Facts on space junk, Alden Park Manor, and a musical instrument called the sipsi, then introduce the end of the Ikigai segment era and the beginning of The Earthscape. In You Got Questions? We Got Answers? they respond to a listener question on how the podcast comes together.
Things to do:
Join Tolley Casparis' online group, My Liberal Agenda.
Follow Tolley Casparis on Facebook, Twitter, and Instagram and learn more about her work as a Casting Director.
Follow the Progressive Change Campaign Committee.
Follow Tolley Casparis' journey as a Death Doula.
Read "A Large Object Landed on His Sheep Farm. It Came From Space."
Watch "Turkish Sipsi From Bamboo."
Rock out to "Space Junk" by Devo!
Sound engineering by Wendy Sheridan
Show notes by Robin Renée
Fake sponsor messages by Ariel Sheridan
Web hosting by InMotion
Remote recording by SquadCast
Please follow and like us: