Podcast: Play in new window | Download (Duration: 1:15:02 — 137.4MB)
Subscribe: Google Podcasts | Spotify | iHeartRadio | RSS | More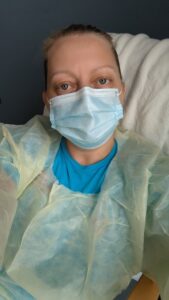 Featured guest Stacy Staggs is a wife and mother to twin girls who are the lights of her life. The girls also live with complex medical needs and disabilities. Since the twins' birth, Stacy has been advocating for their access to healthcare, public education, and community inclusion. She volunteers across a number of organizations mainly as the Director of Community Engagement for Little Lobbyists and as a Consultant with Long COVID Families. Listen to her compelling stories about family, healthcare activism, her perspective as the democratic process threatened the Affordable Care Act, and the importance for all people, regardless of ability, to live fully engaged lives.
Wendy Sheridan and Robin Renée get the show started with 3 Random Facts about our bacterial inhabitants, anarcho-primitivism, and places called Bristol. In the News: Authorities in Kyiv ban large public events for Ukraine's 31st anniversary of independence, Michelle O'Bonsawin, an Abenaki member of the Odanak First Nation, is selected for Canada's Supreme Court, Omicron-specific COVID boosters are on the way, the world's smallest sea turtle hatchlings are discovered off the coast of New Orleans, and former Australian Prime Minister Scott Morrison apparently gave himself a few extra cabinet positions. Spoiler Alert: In the Geekscape segment, Wendy geeks out on The Sandman.
Things to do:
You Got Questions? We Got Answers! Serious or silly, send 'em to Wendy and Robin here.
Learn more about Little Lobbyists and Long COVID Families.
Watch The Sandman.
Sound engineering by Wendy Sheridan
Show notes by Robin Renée
Fake sponsor messages by Ariel Sheridan
Web hosting by InMotion
Remote recording by SquadCast
Please follow and like us: