Podcast: Play in new window | Download (Duration: 1:19:49 — 146.2MB)
Subscribe: Google Podcasts | Spotify | iHeartRadio | RSS | More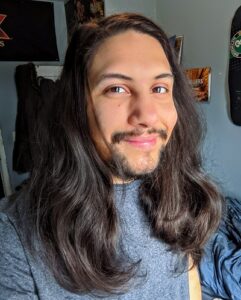 Danny Vargas is a freelance graphic designer, musician, activist, and the youngest member of the Rahway Democratic Committee. He's committed to making the city he grew up in a place where he wants to live his best life and to make the area a destination for music and art. In the first featured interview in The Leftscape season on DEMOCRACY, Vargas recalls joining his local committee, what it does and how it works, talks about the things he finds most important in politics, and also shares some tales of the indie musician life.
After a check-in at the top of the show, co-hosts Robin Renée and Wendy Sheridan share 3 Random Facts about gravitational lensing, phrenology used to judge presidential candidates, and wild mustard, a parent species of several vegetables you know and love (or not). In the News this time is the most recent January 6th Committee hearing, Monkeypox, Canada's upcoming ban on single-use plastics, lack of shade in urban areas and a "cooling paper" invention among other solutions that may help, and legal protection for UK beavers. Local libraries are the topic in the Why Is This Awesome? segment. At the end of the show, Wendy and Robin answer an age-old question from the Icebreaker Deck.
Things to do:
Follow Danny Vargas on Instagram.
Learn more about the Rahway Democratic Committee.
Check out Danny Vargas' band, Red House/Bluehouse, on Bandcamp.
Listen to RedHouse/Bluehouse on Spotify:
View Political Broadside, "This Settles the Presidency!…The Candidates Phrenology Considered," 1884.
Get information on monkeypox from the CDC and The Guardian.
Learn about public libraries and find one near you!
Sound engineering by Wendy Sheridan
Show notes by Robin Renée
Fake sponsor messages by Ariel Sheridan
Web hosting by InMotion
Remote recording by SquadCast
Please follow and like us: