Podcast: Play in new window | Download (Duration: 1:25:47 — 157.1MB)
Subscribe: Google Podcasts | Spotify | iHeartRadio | RSS | More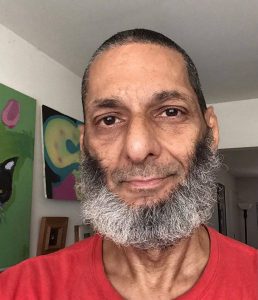 Pedro Serrano was born in Newark, NJ and grew up in the Columbus Homes Housing Projects. His childhood memories include "riots, cockroaches big enough to ride to school, and cherry blossoms in the spring." He is a spoken word artist, was the producer and host of Generation Q, a gay community affairs program on WRSU 88.7 FM, and is a longtime member of the NJ punk rock scene. In his bio for The Good Men Project, he says, "… consider me a product of public housing, food stamps and PBS." In this last featured interview in this season's Acceptance series, Pedro talks about the importance of calling out dogma on the left and his experiences of bridging communities and being "the stranger" among skinheads.
This time in The Artscape segment, co-hosts Robin Renée and  Wendy Sheridan talk about Wendy's current projects and inspirations and which items she brought with her for sale at the recent Philcon event. The Three Random Facts for this episode teach us about the origins of the political terms "left" and "right" according to The Dawn of Everything, the Amen Break, and the very special original purpose of graham crackers. In News, a number of major fashion brands contribute to deforestation, convictions in the murder of Ahmaud Arbery, Kyle Rittenhouse's not guilty verdict and the laws that made it possible, the latest for January 6th insurrectionists, and Merriam-Webster chooses its word of the year. In You Got Questions? We Got Answers! Wendy and Robin respond to "What is your wish for the next year?"
Have a great December, Happy Holidays, and Happy New Year!
Things to do:
Keep up with Pedro Serrano on Facebook, Twitter, and Instagram.
Check out the Trojan Skinhead Reggae Box Set.
Check out SKIN: A Graphic Novel for Adults by Peter Milligan
Happy Birthday to Wendy on December 3rd! Give her the perfect gift by making a purchase from wendycardz @ Etsy and becoming a Leftscape patron.
Read "Spell Slots and Spoon Theory" by Dani Kirkham.
Check out 50 songs that sample The Winstons' "Amen, Brother."
Sound engineering by Wendy Sheridan
Show notes by Robin Renée
Fake sponsor messages by Ariel Sheridan
Web hosting by InMotion
Remote recording by SquadCast
Please follow and like us: