Podcast: Play in new window | Download (Duration: 1:10:38 — 129.3MB)
Subscribe: Google Podcasts | Spotify | iHeartRadio | RSS | More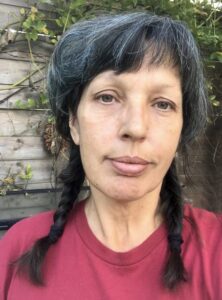 Kat Ardern is an artist, a part-time student (Fine Art BA), and a full-time carer for her wife who has Myalgic Encephalomyelitis (ME). She is a New Zealander who left in 1990 at age 21, in the middle of a recession, to travel to Australia for a six months which turned into four years. She has now lived in the UK for over 20 years. In this conversation with Wendy Sheridan, she shares her knowledge and experiences of living and working within these three democratic systems as well as under a monarchy (which turned super weird with the death of Queen Elizabeth II). Of her current home she says, "We are lucky to now live in a creative community that although has been pushed by gentrification and Airbnb, hasn't lost it's DIY spirit and challenges normalcy at every opportunity. It's definitely not perfect, but it is home."
In the Why Is This Awesome? segment, Robin Renée is psyched about reembracing deep listening. Earlier in the show, the 3 Random Facts involve birthday statistics and bodily capabilities of fish and fireflies. In the News, the US Supreme Court takes up the EPA's ability to uphold clean water regulations and voting rights, ongoing protests in Iran after the death of 22-year-old Masha Amini, hurricanes Fiona and Ian, Daylight Saving Time possibly coming to Queensland, and the passing of Sacheen Littlefeather.
Things to do:
Follow Kat Ardern on Twitter and Instagram.
Check your voter registration, volunteer, and donate at Vote Save America.
Check out Robin's new wave/post-punk show, Saved By Zero, on Yacht Rock Discord! Get in touch for an invite link.
Watch "An Evening With Sacheen Littlefeather — September 17, 2022."
Try some deep listening:
Please follow and like us: