Podcast: Play in new window | Download (Duration: 1:15:40 — 138.6MB)
Subscribe: Google Podcasts | Spotify | iHeartRadio | RSS | More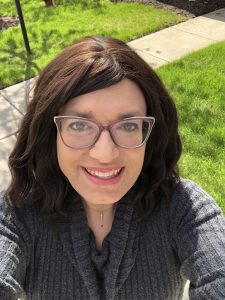 Caroline Vahrenkamp has been fighting Stage IV thymoma since 2015, but she is more than her cancer diagnosis. In her free time, Caroline likes to cook and to travel with her kids and she creates a compelling travel and history podcast, Wonders of the World. While undertaking her cancer journey, she navigated and accepted her identity as a transgender woman. In the featured interview, she outlines the experience of the diagnosis, the very interesting Harry Potter-related story of awakening to her gender, and the hope and joy that has come to the fore after "just figuring things out" and coming to live as her true self. Caroline is a Tennessee native currently living in suburban Indianapolis.
Robin Renée and Wendy Sheridan begin the episode with a personal check-in and random facts. The 3 Random Facts this time touch on famous September 22nd birthdays, the history of the popular game, Skee-Ball, and something that is illegal to do involving moose. In All the News We Can Handle, there is low attendance for the pro-insurrectionist rally in Washington, DC, a report about the killing of endangered penguins by bees near Cape Town, the parting drone strike as US troops left Afghanistan in August, an op-ed on harms done by Facebook and Instagram, and the Extinction Rebellion climate change protest in Scotland that included building an ark. In The Artscape, Wendy interviews Robin about the background work of writing to process complex emotions and creating without a deadline. The You Got Questions? We Got Answers! question of the day is "If you could solve one world problem, what would it be?"
Things to do:
Listen to Caroline Vahrenkamp's Wonders of the World podcast. Like and follow!
Celebrate Bisexuality Day! Find an event near you, or create your own way to celebrate on Thursday, September 23rd.
Watch EarthCam to see Niagara Falls lit up in bi pride colors at 10pm Eastern on September 23rd!
Read Amnesty International's statement on the US apology for the drone strike in Afghanistan and what should be next.
Join The Leftscape on Patreon to catch our We Should Be Recording This conversations and more.
Read about the history of Skee-Ball!
Sound engineering by Wendy Sheridan
Show notes by Robin Renée
Fake sponsor messages by Ariel Sheridan
Web hosting by InMotion
Remote recording by SquadCast
Please follow and like us: