Podcast: Play in new window | Download (Duration: 1:16:37 — 140.3MB)
Subscribe: Google Podcasts | Spotify | iHeartRadio | RSS | More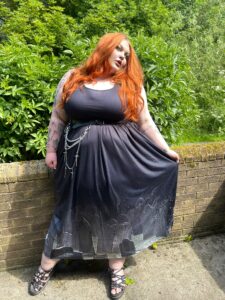 Founded in 2014, Jenn Iannaconi's company, Valkyrie Apparel, is a passion project born of spite and rage — rage towards an exclusionary fashion industry that neither understands nor wants to understand the needs of plus-sized customers. Jenn was born in New Jersey but now lives in Western Massachusetts with her husband, their dog, and several creepy old dolls that certainly DO NOT watch you as you move around the room. In this conversation with co-host Wendy Sheridan, she shares thoughts on attitudes toward body size, the process of creating and maintaining her business, and another fun and educational project with a focus on LARPing with children.
In Why Is This Awesome?, Robin Renée is excited about discovering Black punk rockers. All the News We Can Handle includes the ongoing anti-trans Bud Light boycott, gay and bisexual men now permitted to donate blood in the US, the Barbie film causes a pink paint shortage, when and why Georgia drivers are being asked to keep their clothes on, promising research centering on the shingles vaccine to prevent Alzheimer's, and the positive effect of news stories featuring acts of kindness. The Random Facts at the beginning of the show involve vending machines in Japan and another great talent of scientist Alan Turing. In You Got Questions? We Got Answers? Robin and Wendy respond to a question sent in by bi+ activist, Robyn Ochs.
Things to do:
Check out Jennifer Iannaconi's Valkyrie Apparel website, Instagram, Facebook page, and TikTok.
Learn more about the LARP Adventure Program.
Support Bi Women Quarterly during Pride Month through giveoutday.org.
Listen to Robin's Afropunk History playlist from Episode 19 of the Saved By Zero show.
Join the Yacht Rock Discord server to catch Saved By Zero Sunday nights 9pm ET (Contact Robin for an updated link if needed) or listen on Melbourne Australia internet station, Radio PVS, Thursday mornings 9am ET (11pm AET).
Please follow and like us: