Podcast: Play in new window | Download (Duration: 1:04:42 — 118.5MB)
Subscribe: Google Podcasts | Spotify | RSS | More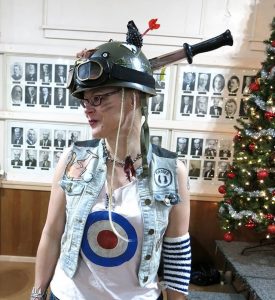 Samantha Poole has been a member of the Asexual Visibility and Education Network (AVEN) since it began in 2002. She was recently credited by members of AVEN as being the first person to coin the now frequently-used terms describing romantic attraction apart from sexual attraction. She defines herself as heteroromantic asexual. Samantha is a psychiatrist with a special interest in the LGBTQ+ population. In her spare time she likes to bellydance, play the banjo, attend cosplay cons, as well as DEVOtional, the annual Devo fan gathering, where she met co-host Robin Renée in 2005. Listen in to Samantha's conversation with Robin as she shares candidly about her journey toward understanding her asexuality, navigating relationships, and finding community.
The 3 Random Facts Wendy Sheridan, Robin Renée, and Mary McGinley impart this time to begin the show involve public transportation in Iceland, the political structure in Ethiopia, and how biological sex works for clownfish. All the News We Can Handle is a Thanksgiving holiday report followed by the harsh reality check of the dire COVID-19 third wave in the United States. Dr. Deborah Birx warns that if you travelled for Thanksgiving, you have to assume that you were exposed and became infected. The COVID Act Now website added a color beyond red — maroon now indicates severe outbreak. There is hope in coming vaccines including one from Moderna. In other news, Biden's bone break and action to take to help get out the vote in Georgia. Later, Robin raves about the new Animaniacs reboot in the Why Is This Awesome? segment.
Things to do:
Connect with Samantha Poole on Facebook.
Learn more about the Asexual Visibility & Education Network.
Stay home as much as possible to reduce the risk of COVID-19. Visit COVID Act Now.
Help elect Democratic candidates Raphael Warnock and Jon Ossoff to the US Senate: Adopt a State
Wish Wendy a HAPPY BIRTHDAY on December 3rd!
Follow The Leftscape on Facebook and attend Househenge: A Winter Solstice Event on December 21st!
Watch The Mutant Mountain Boys: "Bob" Dobbs is Watching Us
Watch Animaniacs – Official Trailer (2020) and check out the show on Hulu.
Sound engineering by Wendy Sheridan
Show notes by Robin Renée
Fake sponsor messages by Thomas Limoncelli
Web hosting by InMotion
Remote recording by SquadCast
Please follow and like us: