Podcast: Play in new window | Download (Duration: 1:15:07 — 137.5MB)
Subscribe: Google Podcasts | Spotify | iHeartRadio | RSS | More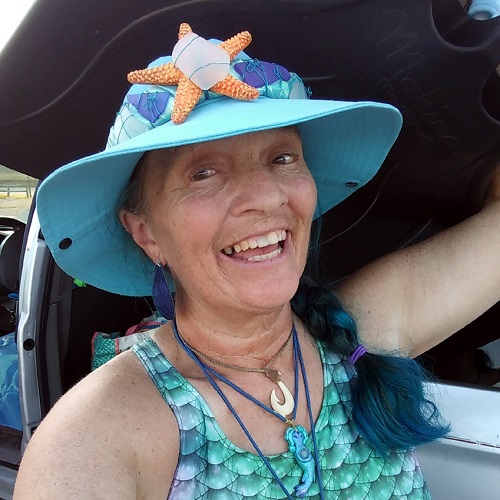 Teanna Byerts wants you to know that adventure is out there — You just need some imagination! Byerts is an artist, writer, photographer, kayaker, horseman, and mermaid. She nerds out about science, science fiction, fantasy, superheroes, animation, and weird, early lifeforms. She has paddled in the wake of dolphins, trained actual wild mustangs, and lived with a small pride of mini panthers. She believes that storytellers and artists should inspire and educate and very much lives up to that objective. In this friendly, artist-to-artist conversation with co-host Wendy Sheridan, Teanna Byerts shares about some of her great experiences with painting and working in environmental education art, wildlife rehabilitation, publishing, and the joy and skill of mermaiding.
Just before the featured interview, co-host Robin Renée interviews Wendy in The Artscape about her explorations in finding a signature style, her art and design work for the new Flick Liver album cover, her upcoming shows, and more. In All the News We Can Handle: Laphonza Butler will fill the U.S. Senate seat that was held by Dianne Feinstein, increased availability of abortion pills for New York City residents, Trump's legal calendar, NJ Senator Bob Menedez' issues, Taylor Swift's voter registration impact, and  rhino rebound. In This Fortnight I Learned, Wendy learned about hemorrhoids and Robin learned about blimps.
Things to do:
Go to Teanna Byerts' website. Check out her books and other offerings.
Follow Teanna Byerts on Facebook, X/Twitter, Instagram, and YouTube.
Check out Wendy's art shows! Find her at:
BarronFest 2023: Woodbridge's 16th Annual Fine Arts & Crafts Festival
400 Rahway Avenue, Woodbridge, NJ
October 14, 2023, 12pm - 4:30pm
Rahway Craft & Art Fair
Rahway Recreation Center, 275 E. Milton Ave, Rahway, NJ
November 4, 2023, 11am – 4pm
Philcon
Doubletree by Hilton, Cherry Hill, NJ
November 17 – 19, 2023
Get music by Flick Liver!
See the Goodyear blimp!
Get yourself a public radio name here, here, or here.
View art by Wendy Sheridan (click for full size images)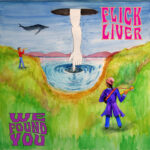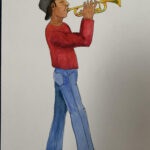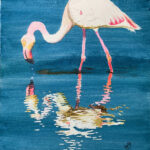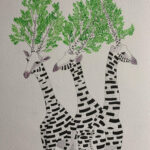 Sound engineering by Wendy Sheridan
Show notes by Robin Renée
Web hosting by InMotion
Remote recording by SquadCast
Please follow and like us: