Podcast: Play in new window | Download (Duration: 1:02:15 — 114.0MB)
Subscribe: Google Podcasts | Spotify | iHeartRadio | RSS | More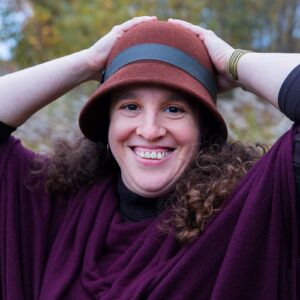 Missy Singer DuMars has had careers in Theatrical & Entertainment Lighting, Therapeutic Massage, and Business Coaching. She is now a farmer and the owner of Crown Hill Farm in Eden, NY. She is also the hostess of the Women in Food Podcast. With this eclectic life and experience, she has lots to talk about! Hear what she had to say about her journey into farming, empowering women in the food industry, and the habits and conventions we can all use help breaking through to realize better choices around the food we enjoy and are nourished by every day.
Before the featured interview, co-hosts Wendy Sheridan and Robin Renée talk about autumn gardening plans in The Earthscape. The News is a LOT. Stories include the profound losses and complications of the Israel-Hamas War, India's Supreme Court statement on same-sex marriage, the continuing U.S. Speaker of the House debacle, Greta Thunberg's recent arrest, the defeat of The Voice for Australia's First Peoples, and the first off-road, solar powered car. Robin and Wendy kick off the show with This Fortnight I Learned. This fortnight, Wendy learned a fascinating fact about Australia. Robin embraced being in love.
Things to do:
Check out Missy Singer DuMars' Crown Hill Farm, SpiritBizPeople coaching, and Women in Food Podcast.
Like Crown Hill Farm on Facebook and follow on Instagram. Connect with Missy Singer DuMars on LinkedIn and X/Twitter.
Take a Haunted Hayride at Crown Hill Farm! Saturday, Oct 28th, 11am – Sunday, Oct 29th, 2pm.
Please follow and like us: