Podcast: Play in new window | Download (Duration: 1:33:28 — 171.1MB)
Subscribe: Google Podcasts | Spotify | iHeartRadio | RSS | More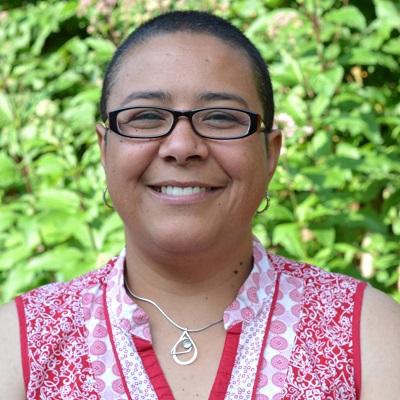 Sharice Richardson is a nonbinary, queer, Pagan healer and proprietor of Sun Crow Hands-On Healing. They are a Cuddle Sanctuary trained Professional Cuddler and Level II – Usui Reiki Practitioner, who trained under Reiki Master Sea. Sharice is deeply committed to utilizing the spiritual power of love and compassion to liberate, heal, and energetically transform lives. Having first met years ago in the Rutgers University LGBT activist community, Sharice and Robin catch up on their respective spiritual paths, gender evolution, both/and identities, and muse about political histories and the ultimate importance of love. 
The 3 Random Facts co-hosts Robin Renée and Wendy Sheridan have to share for this episode involve the MyPlate nutritional guide that replaced the old food pyramid, a few things about robins, and a gemstone carved by Devo's Mark Mothersbaugh. Wendy is rightfully proud to have come up with a Devo-related fact that Robin didn't know. The news ranges from a wild cat jump and Van Morrison's "tinfoil millinery" to the new CDC mask guidelines, a worrisome upcoming review by the Supreme Court of a Mississippi abortion law, and the latest Israel-Palestinian conflict (and uncertainty about how to think and talk about it). In The Geekscape, Robin dives into the deep end of electronic music genres, subgenres, and microgenres. Watch this space for a playlist of some of the exploration-in-progress.
Things to do:
Connect with Sharice Richardson about Sun Crow Hands-On Healing.
Check out Cuddle Sanctuary.
Read the CDC guidelines for those who have been fully vaccinated against COVID-19.
Read "Israel-Gaza Conflict: What You Need to Know."
Like the Loving Day NJ page on Facebook and take part in Loving Day Online on Saturday, June 12th.
Geek out on the history of electronic music.
Watch "Kraftwerk live oct.1978"
Watch "Le Mystere des Voix Bulgares — Full performance (Live on KEXP)"
Listen to "Laiska"
Sound engineering by Wendy Sheridan
Show notes by Robin Renée
Web hosting by InMotion
Remote recording by SquadCast
Please follow and like us: