Podcast: Play in new window | Download (Duration: 56:54 — 104.2MB)
Subscribe: Google Podcasts | Spotify | iHeartRadio | RSS | More
Jan Steckel, award-winning poet from Oakland, CA, speaks with co-host Robin Renée about her life and work and reads from her most recent book, Like Flesh Covers Bone (Zeitgeist Press). Arranged into sections that mirror the steps of surgery – Incise, Dissect, Ligate, Excise, and Suture – the book speaks to moving experiences including relationships that are personal and/or informed by the interplay of gender, as well as to the current political climate which can feel like undergoing surgery sans anesthesia. The collection of poems opens up the painful and seeks to move through a process that ultimately brings healing. In this warm conversation, Jan shares her thoughts on being an out and proud bisexual in her poems and in the world, what poetry and other forms of literature can do for us, and the ways writing intersects with activism. The evocative poems she reads aloud touch on themes that range from deep praise for poet friends to sex and sadomasochism to the rise of fascist politics to the odd surprise of being recognized as a bi "elder."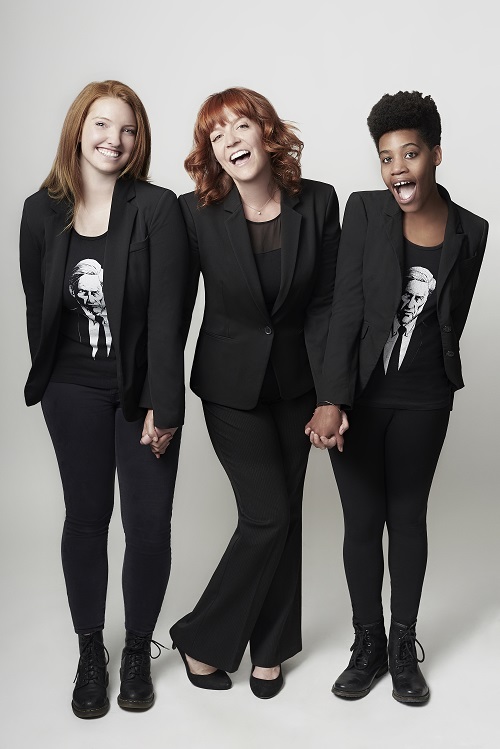 In the Why is this Awesome? segment, Robin raves about seeing Mueller, She Wrote live at The Miracle Theatre in Washington, DC. Hosts A.G., Jaleesa Johnson, and Jordan Coburn have been keeping up with the details of the Mueller investigation and all related news in a weekly podcast, plus special episodes for patrons. Rather than winding down after William Barr's brief commentary on Mueller's report, their humorous but serious pursuit of justice and an informed public is just getting started. You can listen to the March 29th live show and you can vote for them in the Webby Awards!
Wendy Sheridan helps us all take a break from the intensity of political news this week by geeking out about the Hugo Award nominations and paleontologist Robert DePalma's recent find in Montana – a fascinating game-changer for our understanding of how the dinosaurs died. She also takes time to celebrate the life and work of science fiction author, Vonda McIntyre. Mary McGinley gives us the week's reasons to celebrate – National Pet Day (April 11th), National Dolphin Day (April 14th), and National Wear Your Pajamas to Work Day (April 16th). Birthday shout outs go to David Letterman, David Cassidy, Tiny Tim, Tom Clancy, Al Green, Seth Rogen, Chance the Rapper, Kareem Abdul-Jabbar, and dearly-missed friend of the Leftscape co-hosts, Anthony Minson.
Things to do:
Read Like Flesh Covers Bone by Jan Steckel.
Check out the Bi Women Quarterly.
Support Mueller, She Wrote on Patreon.
Read "The Day the Dinosaurs Died" in The New Yorker and "Astonishment, skepticism greet fossils claimed to record dinosaur-killing asteroid impact" in Science.
Learn about the life and work of Vonda McIntyre.
The Leftscape is planning another Mythbusting Day! Share your thoughts on myths you'd like to hear get thoroughly busted.
If you're in the U.S., don't forget to pay your taxes by April 15th!
Please follow and like us: