All the Newsletter We Can Handle
Interviews, Commentary, Culture & Current Events
with co-hosts Wendy Sheridan, Robin Renée, and Mary McGinley
To say we are living in strange times is profoundly understated. We hope that you and yours are well and are staying safe from the novel coronavirus as best as you are able. We all have different circumstances and ways of coping, be it working, worrying, cooking, relaxing, exercising, recuperating, helping, or binge-watching Tiger King (No judgment!).
How have we been passing the time? Mary decided to self-isolate around March 15th because where she had been working required her to answer the phones and read a written statement that said in essence, "We're not cancelling anything, so NO you can't have your money back. We don't really care." After three days of being screamed at by customers, she was happy to be at home in the peace and quiet. She felt a little guilty for being so happy, as an introvert with mild agoraphobia, while being stuck alone at home with her cats and internet. Now she finds she is having dreams about teleporting to meet with distant friends, so it may be beginning to get to her.
Wendy was the first to begin social distancing in February and it feels like it's been forever. She is dealing with the pandemic by making masks, starting her victory garden, obsessively watching her governor's daily news briefings, and reading the Washington Post and New York Times. She talks to the three fruit trees she planted in March every day (including the 4-in-1 apple tree in the photo) and checks on the rabbit living under the tangled vines in the mound in her yard. She worries about friends and loved ones, and is mourning with them as they lose close family. She bounces from despair to fury with brief stops in optimism. As of April 10th, Wendy has made 200 masks, with about 100 of them being donated to nursing homes, medical professionals, and people in need. She is busier now than she has been in several years, and she's not sure how she feels about that.
Robin stopped venturing into crowds after a giant dance party on February 29th which was a blast, but felt creepily risky. Work from home has changed very little, so aside from not heading out to go to the gym or cafe, much of the day remains the same. Figuring out the best ways to get enough exercise to feel in balance has been a challenge. Along with much of the world, Robin has discovered the potential of Zoom for everything including an ecstatic dance experience, an Ostara ritual, a seder, a polyamory meetup group, and general conversation for reconnection with friends. RobinRenee.com updates, songs and song parodies, and Leftscape interview bookings are all in the works. Emotional possibilities at any given time: grief, fear, serenity, resolve.
How are you doing? How are you spending your time? Is there a topic or a guest on The Leftscape that would help brighten your experience? Please let us know.
— Wendy, Robin, & Mary
Leftscape Latest
A Balance of Intensity (Episode 76)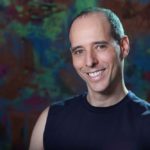 Julio Cortés, of Mind and Body 360, is a health coach and consultant who helps clients create the life they desire by evaluating and balancing key areas including stress levels, fuel, sleep, movement, and recovery. He draws from having studied with numerous health and wellness experts, extensive martial arts training, and his time spent training others in a corporate environment in Japan. As a longtime activist, he is particularly interested in helping others engaged in activism to maintain their energy and wellbeing. Though this interview was recorded before the scope of the coronavirus pandemic was in full view, the conversation is apropos as we try to keep up our health and spirits worldwide. LISTEN =>
A Very Useful Sword (Episode 77)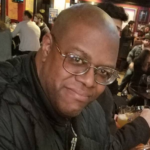 Daryle Lamont Jenkins believes "the pen is mightier than the sword" and has been writing about, filming, and otherwise getting the word out about neo-Nazi and other hate organizations for decades. He has appeared on CNN, Fox News, MSNBC's Rachel Maddow Show and AM Joy with Joy Reid, ABC's 20/20, and in articles and documentaries (Alt-Right: Age of Rage, Erasing Hate). Daryle co-produced the short film, Skin, which won the 2019 Academy Award for Best Live Action Short. He first joined a counterprotest against a KKK rally in New Hope, PA in the early nineties and founded the anti-hate organization One People's Project in New Brunswick, NJ in 2000.  LISTEN=>
Coming up this week, we'll hear from playwright and performer Rich Orloff. He will read from and discuss his autobiographical monologue, It's a Beautiful Wound, about his journey in psychedelic-assisted underground therapy.
______
The Personals
Here's what we've been doing when we're not working on The Leftscape.
Wendy is Making Masks
Wendy is making surgical-style masks for family, friends, essential workers, and health care professionals. She also may still have some available for sale (Proceeds help pay for materials for masks that are donated.). The fabric is quilting-grade 100% cotton, and is designed with a pocket to insert a filter (such as a medical-grade surgical mask), and around-the-head elastic to prevent breakdown of skin behind the ears from long-term wearing. See the pinned post on the wendycards Facebook page to view the fabric being turned into masks each week. Direct Message Wendy from the page for more information and to reserve a spot in the mask queue. If you need a mask but can't afford to buy one, she may still have some available.
Robin Shares Faves on Quarantine Island Discs
Robin was the first guest on author Laurence Peters' new podcast, Quarantine Island Discs. The show asks artists and celebrities to reflect on six favorite media selections that are helping them get through isolation during the pandemic. Robin talks about an intent to watch at least one notably terrible movie, shares a favorite version of The Hanuman Chalisa that offers strength and comfort, and reads hir poem, "A Concert of Lions." Listen in to the conversation to hear about all of Robin's choices. You can catch Quarantine Island Discs on Spotify, on the website, and elsewhere around the web.
______
For Patreons Only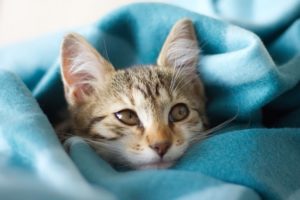 This time around, "For Patreons Only" is for everyone because the presence of the coronavirus affects us all. In this extended Blanket Fort segment, we talk about how to adjust to working from home and what we're doing to take care of ourselves while social distancing. Listen to "Self-Care in the Time of COVID-19" and consider BECOMING A PATRON of The Leftscape for as little as $1 per month.
Please follow and like us: